Differences between NUMBERS and Excel
Apple Numbers is a powerful spreadsheet application. Without any license cost, it is also compatible with iPhone, Mac and iPad.
The main rival of Apple Numbers is the Microsoft Excel program which is a leading software spreadsheet editor. Below we will go through similarities and differences of both programs.
Document structure and exporting
Similar to Microsoft Excel each document consists of multiple sheets. But how the sheet structured in each program is different. Each Apple Numbers sheet can contain multiple tables. That is why when an Apple Numbers file is exported to Microsoft Excel, it asks to choose whether an individual sheet should be created in Excel for each table or all tables should be exported as one sheet.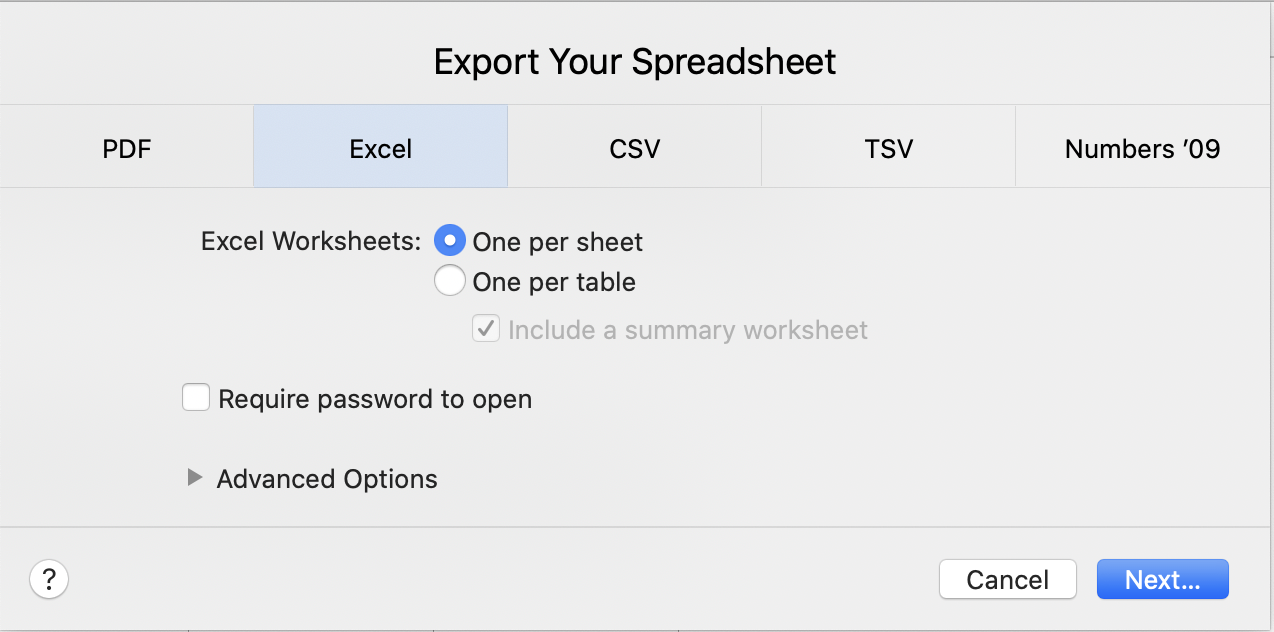 Therefore, people accustomed to working with Apple Numbers find that exporting tables to different worksheets may results in an inconvenience. However, with Excel, a worksheet can contain many different tables so it may worth a try an option of exporting tables to the one sheet.
The export of calculations from Apple Numbers to Excel is relatively simple, mainly because the functions and formulas have been named in the same way in both programs.
Usage
In general terms, people who have used Excel all their lives will have difficulty working with Apple and vice versa. This is due to the user interface of each software.
Excel is ideal for with working large lists with complex computations and macros. Apple Numbers, on the other hand, is efficient and fast when it comes to making spreadsheets with great graphics. In addition, for home-based users who require spreadsheets for casual purposes, Apple Numbers could be the solution. Because Excel is so versatile and ideal for proper accounting purposes, financial experts often prefer it versus Apple Numbers. Macros and complicated functions are supported by Excel.
Versatility
Versatility is, if desired, the most important feature to establish the determining differences between Excel and Apple Numbers. While Excel applications comes with versions that are compatible with Windows and Mac, Apple Numbers can only be operated on a Mac. Excel offers at least a hundred more functions that can be used to make complex and large-scale financial calculations.
As for plotting features and advanced graphics for data visualization, they are still under development in Apple Numbers. However, if aesthetics must be taken into account, the Apple Numbers graphics are superior.
Print view
Apple Numbers is better suited for printing documents containing multiple tables. In print view it divides pages exactly where the table ends, so the document will have exact proportions.
Better control over sheet size
In Numbers, unlike in Excel, the spreadsheets are not infinite. That is, you can resize how large you want the spreadsheet to be. In Excel there are infinite rows and columns. In the Apple Numbers program, if you are not going to use huge tables, there is a cursor that allows to enlarge or shrink the spreadsheet at our whim.
File storage
Apple Numbers and Microsoft Excel use similar structure for the file storage and compression scheme: both file formats are based on XML files and use ZIP compression.
Compatibility
Apple Numbers is capable of exporting to Microsoft Excel file format but not vice versa. This where Apple has an advantage. All of its programs are compatible with third-party formats, and Apple Numbers was not going to be less compatible with Excel. In addition, Apple Numbers can export spreadsheets to PDF or even to CSV format.
Although Excel allows us to export to PDF or CSV, formatting could be problematic due to the way Microsoft Excel sheets are structured.
To conclude, we hope you have understood the differences between Apple Numbers and Microsoft Excel and therefore can take full advantage of those things in which every application is stronger. We also hope you have understood that you may not need a suite as advanced as Microsoft Office to do housework.